The Business Agility Imperative
By Evan Leybourn, CEO, Business Agility Institute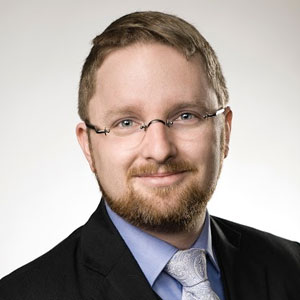 Evan Leybourn, CEO, Business Agility Institute
In the modern economy, companies do not have the luxury of stability. The impact of change, both technological and cultural, is greater and faster than ever before. The simple fact that the average lifespan of a company has decreased by more than 50 years in the last century demonstrates that not all organizations are prepared for this new reality. I don't think it's particularly controversial to suggest that, in this environment, only companies that are agile, innovative and dynamic will thrive.
The keyword here is "companies". I want to introduce the concept of business agility to you and take Agile out of the realm of technologists and software development and into the realm of corporate management. Business agility is redefining what it means for a company to be successful by providing a new context for leaders to embrace uncertainty. And it is quickly becoming a market differentiating factor in both large legacy organizations as well as disruptive entrants.
But let's be honest. It's really hard to do it right. At the 2017 Business Agility Conference in New York City, Steve Denning put it clearly. "You can't put agile teams in a bureaucracy. A mix of agile and bureaucracy is unstable. One or the other will take over."
Why is this? Why take so many attempts at agile and business agility and not deliver the promised benefits. To answer this, and with apologies to Eliyahu Goldratt, I often talk about "Evan's Theory of Agile Constraints".
Very basically, Goldratt's Theory of Constraints states that there is a constraining factor in any process. More importantly, that there will always be a constraining factor - once you remove the current constraint, another step in the process will become the limiting factor. Similarly, the Theory of Agile Constraints is that, in any organization, there will always be a constraint to business agility.
It can help to think of work in an organization as a flow with customer demand on one side, supply on the other and your company in the middle. Let's take an example software organization. We have user demand for new features on one side and the production environment on the other. Somewhere along this flow is the limiting constraint. Maybe it's taking too long for our developers to deliver products. So we introduce Scrum.
That opens up the flow in our development teams. It turned out well. Except that Agile hasn't been as effective as we'd hoped. It's still taking too long. The sad fact is that many organizations stop here and say "well Agile didn't work", but fail to look at the next constraint in the system. Maybe now it's deployment. So let's bring in DevOps. Great - that opens up the flow further.
But now there's a new constraint. We need a wider view. We need to bring in business agility. Where's the next constraint? Maybe it's Finance and our budgeting process. We have an 18 month budgeting process limiting a development cycle that can deploy every day. Fix that. Then it's HR or the PMO, etc.
In today's economy, these are the areas that are constraining the agility of an organization. In many ways, this is the definition of business agility, taking the mindset of agility, and the practice of Agile, and applying it across the organization. But it goes beyond that as well. It goes into the very culture and structure of the organization. Is the organization designed in such a way to be competitive in an ambiguous and unpredictable market?
The best mechanism for this is to understand the Domains of Business Agility: a simple model consisting of 9 interacting domains across 3 dimensions and centered around the customer.
A mix of agile and bureaucracy is unstable. One or the other will take over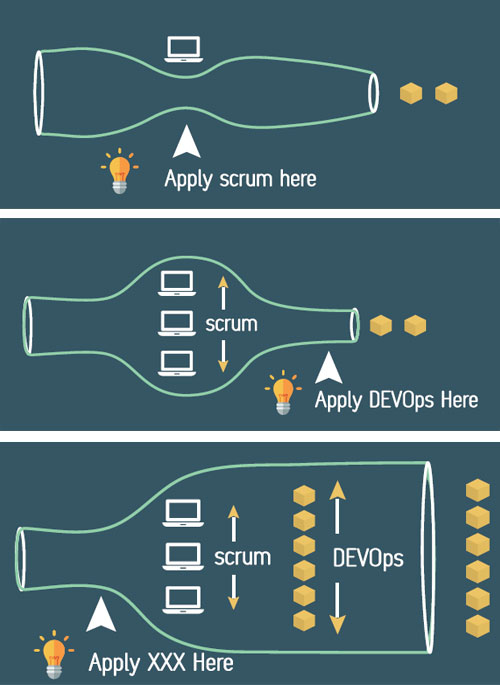 Business agility creates purpose-driven organizations. For most companies their customer is their purpose, however in public sector or social-good organizations the definition of the customer is much broader. Regardless of how it is defined, your customer is at the heart of the model and shapes your organization. Too many organizations have forgotten that we aren't in business to make money - we make a profit to continue and achieve our true purpose - to serve our customer.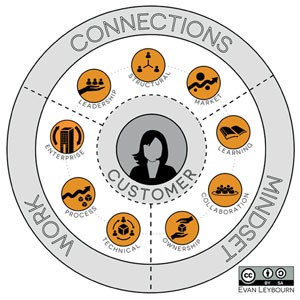 Surrounding the Customer are the three dimensions: Work, Connections and Mindset.
The three domains under the Work Dimension govern how an agile organization operates.
1. Technical Agility - The techniques for delivering work, regardless of function or subject matter, in an agile way.
2. Process Agility - The form of agility that encompasses an individual value stream - the combination of discrete activities that are undertaken by teams and projects.
3. Enterprise Agility - Scaling agility across divisions, departments, the organization and ultimately between organizations.
The next three domains of business agility are part of the Connections Dimension and govern the relationships that form both within and outside the organization.
1. Structural Agility - The relationships between individuals, teams & divisions to create an agile organization.
2. Leadership Agility - The relationship with between individuals and authority within an agile organization.
3. Market Agility - The relationship between the organization and the marketplace.
The third and final dimension is concerned with governing the key characteristics of an agile organization - the cultural domains.
1. Learning Mindset - Organizations that experiment, learn faster than others are those that succeed.
2. Collaboration Mindset - A culture of collaboration underpinned by communication and transparency across individuals, teams, divisions and organizations.
3. Ownership Mindset - Individuals and teams taking pride and accountability in their work.
These nine domains and their common characteristics are the key to business agility. None of these are more important than another. Rather they are complementary and mutually necessary in order to achieve agility. - Evan Leybourn, Melbourne Australia
Evan is the CEO of the Business Agility Institute and Chair of the 2018 Business Agility Conference in NYC.'