What's this Agile thing all about?
By Damian Fasciani, General Manager - Customer & Technology Operations, Australian Unity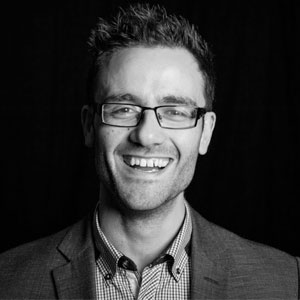 Damian Fasciani, General Manager - Customer & Technology Operations, Australian Unity
It's a term that is becoming more commonly known across a host of industries, and when you speak to people about it they have a different opinion on what it means. Sure, you can look it up and you'll find a host of artefacts that take you through what it is, how it can work, and its purpose. Across my career I have applied various methodologies and ways of working; Agile is simply one of many and like all of them it is as good as the culture and people you have that are willing to invest in making it work.
What it means to me goes beyond an iterative approach to developing and delivering on a solution. For it to be a success in any organization / team you need to incorporate a host of elements that brings it all together. With that, I have seen Agile work in various forms across a wide range of teams (outside of the Technology community). The key is that it needs to be fit for purpose within the context of your team and business.
Why?
Agile forms your operating rhythm and way of working; prior to saying you're going to give this "agile" thing a go you need to determine why you want to change your existing environment. This can include an analysis on your current state, what works, what doesn't and determining what success looks like in the future. This is your foundation, your base. Get this right, and you're half way there. Determine the why and move forward together.
Culture
Agile has had a huge impact and is critically important to bringing Agile into an organization / your team. Your people make your culture. You will have people that will embrace change, and others that won't. Everyone deals with change in a different way, if you don't include your people in the journey of change and incorporate their ideas and thoughts it will fail. This takes time through workshops, open conversations, open feedback on your way of working, how Agile can work for you, and what form it will take over a sustained period of time.
It's Ok to get Help
Across various points in my journey when I brought Agile into my teams, evolved / iterated and matured on it, I always looked for help. Even if you don't execute or use that guidance, it gives you perspective which will help you make the right decisions on its implementation. Looking to other businesses in your related industry is always a good yardstick, and with that even speaking with other teams in your company that may be at a different point in their Agile journey can help.
Agile forms your operating rhythm and way of working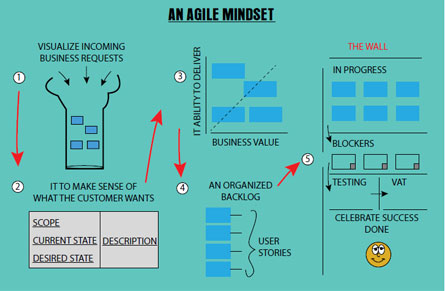 Agile is just. Post it Notes' and no Commitment!
Wrong! In my time when I have been faced with comments alluding to the lack of structure or control I have always counteracted that. Being Agile across the life of delivering a product or business solution, your commitment is as strong as the people who are executing the work. The biggest change across my career has been that we no longer have a fixed scope, start and end date that can't be changed without having to impact an entire plan. The accountability on delivery doesn't change when comparing to alternate methods of delivery. The biggest change has been building an iterative approach to the delivery of tasks which provides a team with specific focus within a window / boxed time frame. Within the context of the broader project, key milestones should be placed in advance to give your stakeholders clarity and assurance the broader project is a focus.
Start Simple and Evolve with time
Adoption is always met when people find a link to a way of working, what is in it for them and the complexity of that working model. Some simple components that can be put in place to kick off your Agile Journey can be as follows:
• Build a Visual Card Wall
Back Log / Not Started
In Progress
Blocked
Done
• Talk to your team about an operating rhythm of your stand ups, repetition, time, and the scope of that meet up.
• When comfortable, leadership can introduce:
• Iterative Time Frames (1 – 2 weeks)
• At the start of this time frame setup a team Planning session which will be the commitment the team will have on what is to be achieved in that block of time.
At the end of that time, setup a retrospective session for the team to assess how you have delivered within that block of time. This becomes an "actual vs forecasted" discussion.
To compliment this, reporting can be introduced that captures your trending delivery journey.
Over time other elements can be introduced which includes:
• Weighting of work (small, medium, large)
• Cycle Time assessments
Fail Fast, Embrace Change, and Leadership Matters
Agile works, it takes practice and like anything in life you practice it. If you fail, that is Ok. As long as you learn from it and mature the way of working, it will eventually add value. Leadership has to support and contribute to the way of working and commit like everyone else on the floor! Embrace something different, you'd be surprised on the outcome.