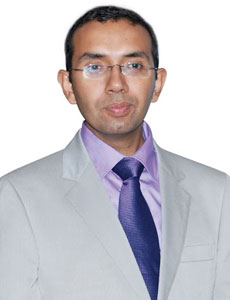 Madhur Kathuria, CEO
The most important question and challenge for any organization is: Are we changing as fast as the world around us? The emergence of innovations every day is leading to the adaption of state-of-art technologies by several organizations at an incredible pace. But an organization's agility gets constrained by its technical agility. The challenge here lies in the fact that customers tend to think and plan in terms of business needs, while the delivery team thinks and plans in terms of development needs, creating a massive gap between the demand and delivery. Agile development has helped transform this gap between need and delivery in software development. With the Agile software development methodology getting closer to its 20th anniversary, it has entered the mainstream and is being widely adopted by many enterprises and smaller businesses. Organizations these days are being structured based on their future perspective of facilitating Agile as this methodology makes the process of software development significantly faster.
Piercing the cloud of competition amongst organizations of staying ahead in terms of technology, AgiVetta Consulting, an agile consultation and training partner, offers a state of being to its customers, helping them rise beyond the prophecies and rituals of the world and attain a continuous state of self-discovery and self-improvement. "Being Agile is all about a state of being rather than a process or a framework," says Madhur Kathuria, CEO, AgiVetta Consulting. AgiVetta follows the philosophy of the 10 PEAS - Positivity, Promise, Persistence, Profits, Passion, Productivity, Purpose, People power, Plan, and Predictability.
Founded in 2015, AgiVetta Consulting promotes and offers value enlightenment in an agile world, creating a difference in the Business Agile consulting.
Adhering to the variations in practices involved in agile transformation AgiVetta understands the different management and departmental levels of all its clients. After an original valuation, the company strategizes several directions for change for their clients. They have coaches who monitor them towards an integral part of the transformation process and help them achieve and define assessable goals for agility. AgiVetta's agile consultation has been guiding organizations to increase their value by adopting Agility practices for transformation in the field of culture and process.
AgiVetta Consulting promotes and offers value enlightenment in an agile world, creating a difference in the Business Agile consulting
AgiVetta Training
AgiVetta focuses on devising methods, tools, and practices that suites their customers in their business environment analysis of organizational values and guiding principles. To help their customers prosper, AgiVetta has hired experienced trainers for their several training modules. The Open Space Agility (OSA) Training has the power of Open Space, invitation, passage rites, game mechanics, storytelling and several other techniques for long-lasting and rapid agile adoption. On the other hand, Management 3.0 Training has revolutionized the method of the invention, management, and leadership.
AgiVetta also offers dedicated agile classroom training like CSM (Certified Scrum Master) training and CSPO (Certified Scrum Product Owner) training which follows the Scrum framework. The company's Scaled Agile Transformation training deals with SAFe, LeSS, DAD, and DSDM and includes SAFe Agilist and SAFe PMPO and SAFe SASM training.
Strategy consulting

Strategy consulting forms an integral part of AgiVetta's offering in the field of Agility. The strategy consulting services enables organizations to gain profits through an investment of human capital. The strategy consulting focuses on blending business analytics, market data, customer interactions and collaborations with employee engagement and motivation. Moreover, AgiVetta's corporate strategy consultants help organizations focus on total business agility by enlightening them with the knowledge of target markets and customers. The corporate strategy consulting focuses on analytics, analysis and culture assessment to create a seamless synergy into the ecosystem. "Our process consulting services envisage in Risk management, Operations strategy, design and Business Engineering, Product Management and sales process restructuring and support," adds Madhur.

AgiVetta offers its agile coaching and training services in India, South East Asia, Middle East and Europe in the field of IT, manufacturing, KPO, education, BFSE to NGOs and government. The company has recently introduced Agile Marketing which applies Agile to Marketing activities and offers an adequately aligned Marketing with Agile techniques. Working with eminent names in the market such as Adobe, Avaya, Dell, HCL, and Infosys, AgiVetta has made a unique position for themselves in the industry. AgiVetta was the Silver Sponsor for the Global SCRUM Gathering in Bangalore in 2016. The company also marked its presence in the AgileSG16, Singapore conference. AgiVetta forms one of the premium organizations certifying more than 4,000 Scrum Masters in India and Asia in one year and is the fastest certification providers in CSM across the world. Western Times quoted AgiVetta Consulting as "A pioneer in providing Enterprise Agile Coaching and training, Business consulting and Organizational change management consulting services in India."